The NKOTB star and The Masked Singer judge have been married since 2014
Donnie Wahlberg's youthful appearance sparked a huge reaction after his wife, Jenny McCarthy shared a sweet photo from their date night earlier this week.
The Blue Bloods actor, 54, and The Masked Singer judge, 51, spent the evening together at a Depeche Mode concert, and Jenny shared a gorgeous photo of them on Instagram smiling for a selfie during the show.
Jenny looked beautiful in a blue sweater that boasted a cut-out section across the chest. She wore her blonde hair down in curls and enhanced her pearly whites with glossy pink lips. Donnie, meanwhile, stuck to his trademark attire of a baseball cap with a dark sweater, and they both sported radiant complexions.
Captioning the moment, Jenny wrote: "@depechemode with @donniewahlberg [heart emoji]. #datenight. #justcantgetenough." Her followers adored their loved-up photo and commented on how flawless they both looked, with one responding: "Wow you both look [fire emoji] great shot together!"
A second said: "Very cute pic of you two." A third added: "That blue on you!! Look at you two!!" However, there were some who insinuated that the reason for Donnie's seemingly ageless appearance is because he has had "some work done" – but he was quickly defended by his legion of loyal fans.
"Well he looks amazing at his age, not just his face. And he's a sweetheart. I bet you don't have abs like him," one follower said. Another added: "Work or not Donnie Wahlberg is handsome and has a heart of gold. You go Donnie and Jenny. Both gorgeous."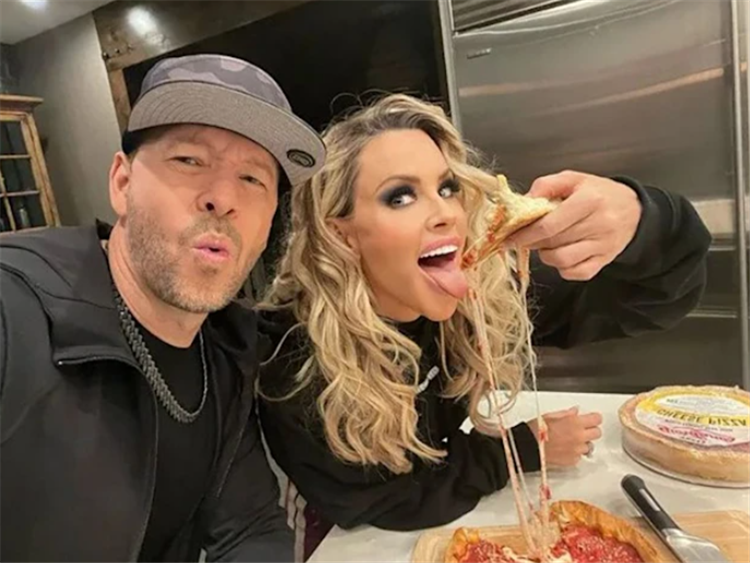 Someone else wrote: "I'm thinking they used an insta filter but who cares. I think it's great to take care of your appearance and care about the way you present yourself. ESP when you're on a date with your spouse."
The couple – who met in March 2013 – recently celebrated their ninth wedding anniversary after tying the knot at the historic Hotel Baker in St Charles, Illinois on August 31, 2014.
To mark the occasion, Jenny paid a heartfelt tribute to her husband, sharing a slew of photographs from their relationship over the years, including snippets from their wedding day.
She sweetly penned: "As I reflect on our journey, I feel honored, grateful and blessed that I get to live inside the greatest love story ever lived. I'm grateful for your kindness that touches every soul you meet, and the love that has become the very heartbeat of my existence.
"As each passing year passes, I fall in love with you all over again. With you, every moment is a treasure, every memory is a masterpiece, and every day is a celebration of the beautiful love we share."
Jenny added: "Here's to us, my love – to the past we've cherished, the present we hold, and the future that awaits us. Thank you for being my partner, my confidant, and my forever love. Happy Anniversary."
Donnie matched the sentiment with a heartfelt tribute of his own, he wrote: "Happy Anniversary, Jenny! So hard to believe it's been 9 years already – the ride is so sweet!
"I love you more than I could ever describe. Thank you for taking care of my heart. I promise to keep taking care of yours. We're on to forever baby! Happy Anniversary!"