There will be significant changes in the dynamics of the mysterious hamlet of Port Charles, according to General Hospital Spoilers for the week of November 20, 2023. To begin with, Kristina and Blaze will see each other more frequently. strengthening their bond as a result. In the meantime, there won't be much holding Anna and Valentin's relationship together. Is there anything Valentin can do to keep their love alive right now? Additionally, keep an eye out for Carly's choice on Nina's offer. So get started to get all the juicy information.
Kristina and Blaze Come Closer, Anna Lashes At Valentin
Blaze has made some new friends on General Hospital since she returned to Port Charles. At the top of that list is Kristina. According to the most recent spoilers, Blaze will ask Kristina to record with her in the next episodes, solidifying their connection even more. Later, Kristina extends an invitation to Blaze to join her family at Alexis' house after learning that Blaze has no one with whom to celebrate Thanksgiving. It appears like the two are gradually moving toward a more romanticized version of their connection.
General Hospital spoilers reveal that Anna and Valentin's conflict will get much worse in the week of November 20, 2023. She feels betrayed by him for keeping such a huge secret from her. Thus, she will point blank confront him over Charlotte's matter. Unfortunately, there will be no resolution in sight. Hence, it feels like as for now, she will be calling it quits with Valentin. Thankfully, Robert will lift her spirits later by giving her a happy surprise. This may involve a visit from their daughter Robin! So watch out for a heart warming reunion there.
Carly Has A Decision To Make, Quartermaines Have A Surprise Visitor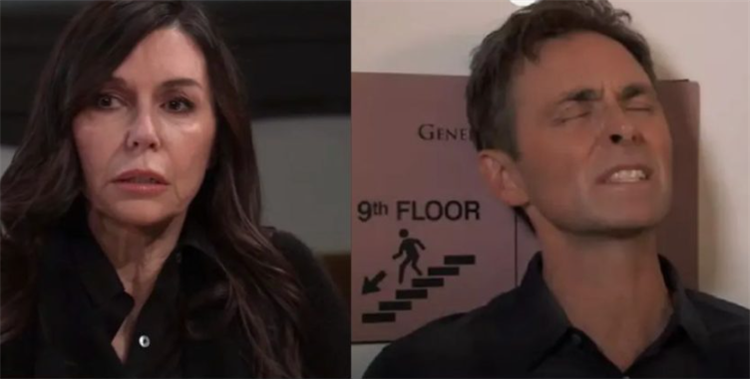 Elsewhere in Port Charles, Carly too, will get a surprise visit on General Hospital. And it will be from Drew. The two will catch up and make up for lost time. However, they will also have some important choices to make. Carly may discuss with Drew about accepting or rejecting Nina's offer for The Metro Court. Furthermore, the spoilers reveal that there will also be a tense conversation between Carly, Drew and Ned. This too, may have something to do with the hotel and of course, Nina. We wonder if Ned might end up spilling some truth during the heated conversation!
The week of November 20, 2023, is when Port Charles residents will be enjoying Thanksgiving, according to General Hospital spoilers. There will be a surprise guest attending the celebration with the Quartermaine family. It won't be anyone other than Gloria Cerullo, Lois' mother!
According to the most recent spoilers, Gloria will be speeding into town while carrying secrets. It will ultimately cause Brook Lynn and Lois to have a major upheaval. Do you know what this secret might be? Comment with what you know. For further information on what's new in PC for General Hospital, keep checking back to TV Season & Spoilers.